Are you looking for the perfect comfort food after a long, tiring day? Are you thinking of going out on a date with your girlfriend and looking for a cozy restaurant which serves yummy food? Or do you want to celebrate something by eating out with your friends? Well, then there is no better choice than Italian restaurants. These offer amazing, mouthwatering Italian dishes which fill your hearts along with your tummies. If you are looking for the right Italian restaurant, then we, at Pizza Machine, can be the right choice for you. We are an experienced and reputed restaurant which has been popular for the last 25 years and counting. We offer the authentic taste of Italy in our food with our pasta imported from there and even our tomatoes come from the San Joaquin Valley. We understand that everyone loves Italian but their pockets might not be of the same size, so we have priced our dishes quite reasonably. If you are looking for the taste of Italy with a limited budget in areas such as Cooper City, Hollywood FL, Miramar, Pembroke Pines, or Weston, you can definitely drop by.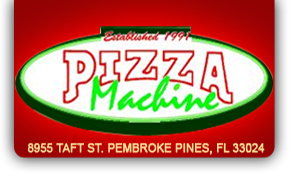 Here, we have put together a few major factors that make a great Italian restaurant. Take a look. 
You should be able to get an amazing quality of food regardless of the restaurant. So, even an Italian restaurant should have finger-licking taste and fresh food that keeps a smile on your face while eating.
Nobody likes to get small portions of food at high prices. So, the right Italian restaurant would be the one which provides sufficient quantity at low prices. It should make sure the food is affordable to every customer with all kinds of budget.
If you think we have the above-mentioned factors, then you must come down to us today.