Pizza, Catering, Pizza Delivery, and Italian Restaurants in Cooper City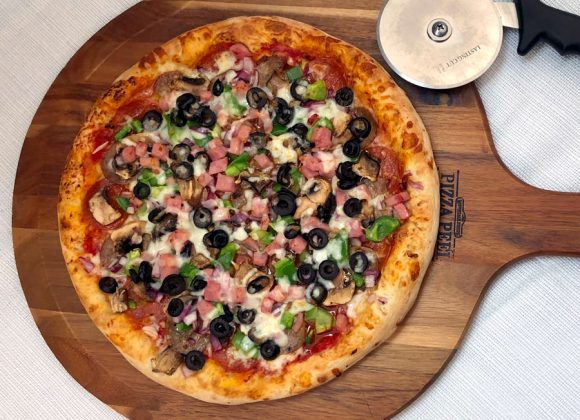 What if your family could combine a great pizzeria along with their favorite Italian food? How about catering for the office that matches all food requests including vegetarian, gluten-free, and low carb? When everyone in the house or office wants something different, finding the right Italian restaurant in Cooper City can be difficult. Some people love and crave Italian while others want something more general. Well, here is what makes Pizza Machine one of the top choices for Italian restaurants for Cooper City – there is something for everyone! Not just pizza and Italian food, Pizza Machine also has wings, ribs, salads, and even fish and chips besides their popular pizza delivery in Cooper City.
Italian Food Catering, Office Catering, and Party Catering in Cooper City
Your choices when deciding on catering in Cooper City will be a reflection of you and your event. We know you want to hear "the food is great!" and we are a great option for your next event. This of how Caesar salad, lasagna, chicken parmigiana, pizza, and cannoli would go over at your party or gathering – something for everyone from light fare to full-flavored dinners. And for offices, we want to be your go-to for weekly lunches, special occasions, or work-thru meetings. We offer some quick and group specific food for office catering in Cooper City including subs wraps and rolls. And when ordering on the fly for work-thru lunch, we offer a full selection of drink choices when looking for a lunch that includes everything.
Pizza Delivery in Cooper City
As you would expect, at Pizza Machine we are known for our pizzas. After all, that is our specialty! Of course, we have the full menu found in Italian restaurants, but we are most known for our pizza delivery in Cooper City. We know everyone has their favorite types of pizza, that is why we offer hand-tossed traditional, thin crust, and gluten-free pizzas along with a long list of toppings. If you are looking for a specialty pie for pizza delivery in Cooper City, we have many different options including The Works, BBQ Chicken, and 5 Meats. All our specialty pizzas are at a price you will not find with other pizza delivery in Cooper City. Be sure to check out our specials page to learn how to feed your hungry crew at low prices.
Italian Food, Catering, and Pizza Delivery in Cooper City
Cooper City is a family-center town. In fact, over 50% of all households in Cooper City have children under 18. And everyone knows what that means – trying to plan affordable and healthy dinners around activities, sports, and little time. Why not order one of Pizza Machine's pizzas for pizza delivery or the nightly special and make life easier? You deserve it!