If you looking to order best pizza in Cooper City, Hollywood FL, Miramar, Pembroke Pines or Weston, then you need look no further than Pizza Machine. They are one of the long-established pizzerias in South Florida and now into their 3rd generation. You can get good pizza in South Florida but if you want great pizza, then you need to order from a genuine Italian cuisine pizzeria.
There are some important things that go into a great pizza. For example premium mozzarella cheeses and other fine ingredients. There is also the art of preparing the pizza perfectly. Another important aspect of great pizzeria is variety. We are all different and like different toppings and ingredients.
At Pizza Machine you have a great choice when it comes to pizza selection. You can choose from their classical pizzas or their speciality pizzas. You also have a wide range of topping to select from. These include pepperoni, ham, beef, chicken, bacon, peppers, olives, pineapple, garlic, spinach, tomato, mushrooms, anchovies, extra cheese and more. You even get vegan options such as Vegan cheese.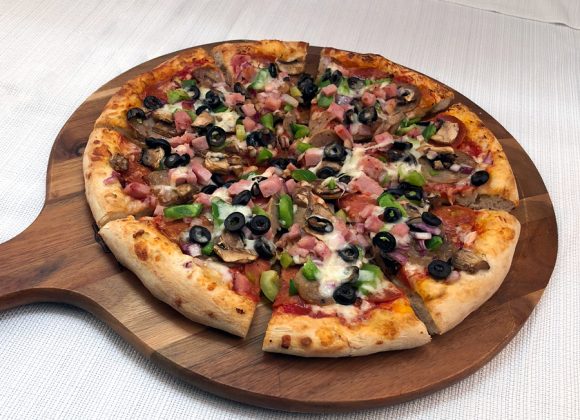 When it comes to pizza size also matters. If you a small eater, then you probably want a smaller pizza. If you a big eater or just really hungry then you will want a bigger pizza. At Pizza Machine you can order in sizes such as 12", 14", 18" and family size. So whether you are looking for a small vegetarian pizza, a medium margarita pizza or a massive 5 meat pizza, they have it all at Pizza Machine.
Now pizza is not the only option on the menu. In addition to great pizzas they also offer wings, burgers, sandwiches, salads, wraps, pasta, Italian entrees as well as desserts. Pizza Machine is the place to order from when you want great food and reasonable prices.